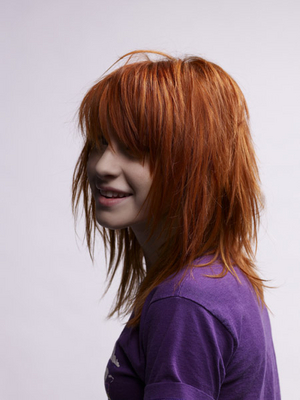 Birth Name-Hayley Nichole Williams
Nickname-Spongebob, Sponge, Hayles
Age-19
Birthday-December 27 1988
Birth Sign-Capricorn
Height-5'2
Eyes-Green
Hometown-Franklin, Tennessee
Birth Place-Meridian, Mississippi
Dating-not telling
Trademark-Vibrant red hair
Tattoos, etc.-not telling
Hobbies-singing / vocals
I am pretty simple. Music, make up, and fashion are what I'm really into. Sort of a typical girls list of hobbies...but I ain't no girls girl. I'm into making memories with photographs and I tend to be pretty nostalgic. Anything to do with the south, I'm down for it: good times and BBQ!!!
My goal is to make music that people, 30 or 40 years from now, wish they were around for.
MUSICAL INFLUENCES
Etta James, Chaka Khan, Jimmy Eat World, The Cure, Refused, New Found Glory, Sunny Day Real Estate, Failure, mid to late 90's pop rock (Third Eye Blind, Semisonic, Filter) and NSync... and many others.
FAVORITE SONGS TO PERFORM LIVE
"For A Pessimist, I'm Pretty Optimistic"
FAVORITE PLACES
Nashville, TN, anywhere in California, Tokyo, Japan, or Brisbane and Melbourne, Australia
FAVORITE THINGS
Loud music on road trips, our 12 passenger van, The Warped Tour, Downtown Franklin, fishing, dancing, Sam and Zoe's for lunch when we are rehearsing in Nashville for tour, going to the movie theater, and a soy 6 pump extra hot no water chai (apparently this is Madonna's favorite drink so I tried it and now the whole Starbucks experience, for me, is based around this drink! You should try it.)
My Top 5 Favorite Foods:
1) Mr. Farro's walnut chicken...really anything Mr. or Mrs. Farro cook.
2) All foods involving lots of cheese (Because it's usually forbidden due to the voice).
3) BBQ
4) Tijuana wrap from Sam and Zoe's in Berry Hill, TN
5) Salmon and tuna sashimi
LAST READ
last read"Little Girls Wiser Than Men," a short story by Leo Tolstoy